PsyNet Crypto Miner (Ethereum Miner for the Psynaps Stream)
What is it?
You can mine with us right now! This is a project to teach my viewers, friends, and community about cryptocurrency. I decided to create a Ethminer GUI that is a simple, one-click , Ether Coin Miner. With the click of a button, you are using your AMD or Nvidia GPU to mine Ether, which can be converted into cash or other cryptocurrency like bitcoin.
What's the Purpose?
The purpose of this project was to educate the community about crypto coins by collecting Ethereum (ETH) that I could giveaway to viewers on the live stream. My goal has long been to innovate streaming techniques, technology, and content on Twitch and YouTube. We are still mining, join us (see the download and screenshots below)!
Making History on Twitch… Again
Now we have made history on Twitch again. This time, we gathered Twitch viewers who already happen to have some of the most powerful GPUs on the market. Within moments of introducing this program to viewers on the live stream, we were mining hundreds of MH/s on an ether pool. It was a huge learning experience to see a pool payout within a few hours. On a related (and historic) note, I accept Bitcoin Donations on my stream from CoinJerk (thanks to Amp), which is a innovate service that integrates with StreamLabs to show Bitcoin donation alerts on stream, LIVE! You are invited to be a part of all of our current and future Twitch innovations.
Summary
It would be amazing to integrate crytocurrency, along with its rapidly developing technology, into our Twitch streams! You can support the stream by mining with us. Miners can donate their coins to the stream (so we can do crypto giveaways), or I can send you the coins you mined after payouts. Additionally, I am looking for ways to collect coins so we can give them away during the stream. If you would like to help, message me here, on Twitch, or any of my social media. Cheers!
Images
Installing the Miner
UPDATE: PROJECT IS CLOSED 11-2017
The project was a huge success! We were able to send tons of coins out to everyone who mined and it was a educational experience for all involved. People opened their first wallets and received their first coins, and many continued mining and collected enough $$$ to buy games, food, and all sorts of things. Which was something I never expected! Thanks to all who participated!
If you want me to reprogram this miner to mine for YOU, and mine directly to YOUR Eth address for your private miners only, I would be happy to reprogram it for you! Many have noticed my system is much faster than many others, if you think its worth having this reprogrammed for you, let me know.
1.) Download the newest version (09-19-2017): PsyNet_CryptoMiner.zip
2.) Copy the "PsyNet_CryptoMiner" Folder somewhere on your drive, for example at the root of C: (eg. C:/PsyNet_CryptoMiner).
3.) Run "PsyNetMiner.exe"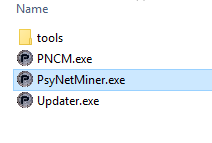 4.) Click the button "Start Mining" (see Notes below before running).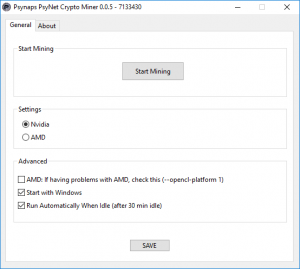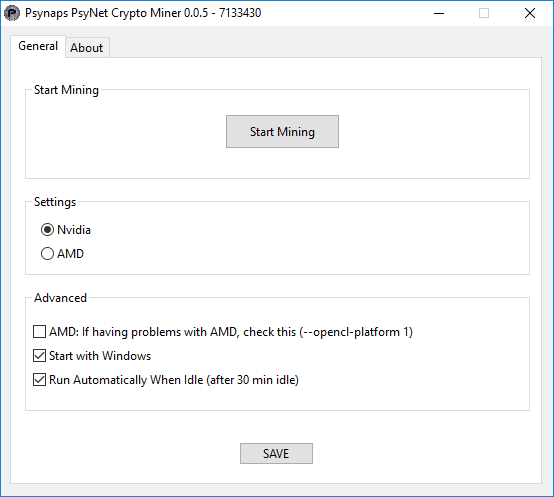 5.) See your progress on my Ethermin pool: https://ethermine.org/miners/e414189d6b1b9c1c22daa7836d058eccbe2e2c5a
Your "Worker" number is displayed at the top of the PsyNet Crypto Miner window, that is how you will know which one you are.
Notes:
– Make sure you monitor your GPU temperatures. I am not responsible if your GPU overheats. The good news is, if you have a well build PC and play games often for hours, there is a good chance your GPU can handle mining. My GPU gets to about 70C while mining. If you get above 80C, you may be running too hot. Use hwmonitor to monitor your temps!
– The "Start with Windows" function is not active, so it won't start with windows. That was a feature in the PsyNet Desktop App, but I have not integrated it into the miner.
– I noticed some AMD cards wouldn't run by default, if that happens use the checkbox for opencl-platform 1.
– This tool mines to my Eth address on the Ethermine Pool.
If you like this tool, let me know! You can also help the making of this content by supporting this site (and/or the live stream) directly!
ETH: 0xe414189D6B1B9C1C22daA7836d058ECCbE2e2C5A
BTC: 18y12dd4EmCccGY6n8yi8Vdno1d3wYvWKP
Cheers!
Update: The PsyShop Accepts Bitcoin
For more info, see the FAQ here: We Accept Bitcoin at Psynaptic Media