Setup a Streaming Studio for Twitch by Psynaps
Many people ask how to setup a streaming studio for Twitch, so lets looks at some microphone, webcam, and lighting equipment that I use to raise the quality of my Twitch stream. Initially, I was just going to focus on microphones and audio equipment for streaming, but I quickly realized I should add more. Luckily there are many video and audio options for streamers, from inexpensive USB mics and webcams, to full quality XLR microphones and pro camcorder video equipment. Much of the equipment in this blog post is intended to be a good "bang for your buck" if you are looking to raise the audio quality of your Twitch stream.
Psynaps Stream Guides


All Streaming Guides by Psynaps: http://www.psynapticmedia.com/ultimate-streaming-guide-for-twitch-and-youtube/
Audio Equipment
Sound quality is an important part of streaming on Twitch, recording for YouTube, and podcasting. There are so many options for setting up a streaming studio, and audio/video equipment for streaming can be expensive. There are two common microphone setups for streaming to Twitch: 1.) a USB mic, and 2.) a XLR mic. Here I will mention both so you can get the best audio for streaming to Twitch!  See the images of my current audio setup for streaming below. I have my mic on a scissor-arm mic stand, which clamps onto my desk. Although I no longer use a pop-filter (I previously used one, but they can be rather large and I felt like it was in the way), I now use a foam windscreen. The windscreen has a smaller form factor, works nicely to reduce pop/wind, and fits nicely over the mic. The mic feeds into the pre-amp using XLR cable. Then, the pre-amp sends the signal to the gate/compressor, which helps reduce background noise on the stream (like computer noise, fans, etc). The number 1 concern streamers have approached me about regarding audio, is background noise on the stream. My Adobe Audition tutorial shows how to eliminate background noise on your live stream using any mic. However, if you have a XLR mic and you can obtain a hardware gate like the one I have below, the background noise can be "gated" out. Finally, the pre-amp and gate/compressor sit nicely on a rack within my reach to adjust if needed.
Audio Configuration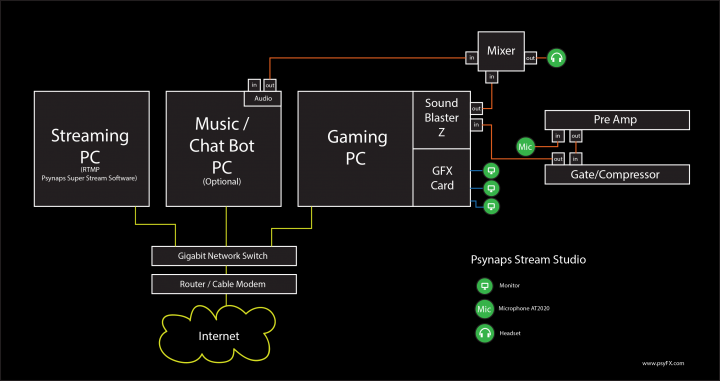 In my audio configuration for streaming to Twitch (above), I use the mixer for mixing audio from my two computers to my headset. This audio setup for streaming is slightly different than normal, because I use a RTMP server (Psynaps Super Stream Software) for dual-PC streaming. Because I use RTMP, I don't need to feed audio cables to the streaming computer. All music is encoded by OBS Studio on my music computer, and the music stream is pulled by OBS Studio on my gaming computer. The gaming computer streams a super high quality stream (high level data rates) to the stream computer, which is encoded for Twitch. This allows me to record at high quality to disk and stream at normal stream bit rates simultaneously. This is a very effective method for a non-capture card dual-PC stream setup that features more flexibility and features compared to the traditional capture card system. It has equal or better quality, and saves hundreds and hundreds of dollars on hardware. UPDATE NOTE: I am using a USB Audio interface for the mic audio input (via ore-amp/compressor) instead of the sound blaster card pictured above. The sound blaster still outputs to my mixer (which is optional in this design).
Current Audio Equipment & Links
Previous USB Audio Equipment & Links
USB mics for streaming to Twitch are the most common. They are cheaper (overall), and more portable making USB mics easy to setup for Twitch audio and/or podcasting. I prefer condenser USB microphones because they give you a pro voice sound for your Twitch stream and YouTube videos. Below is my previous USB mic setup for Twitch (with links). If you want to know how to use a standard USB mic for streaming on Twitch, I made a stream guide on how to combine a USB mic with Adobe Audition to significantly improve voice quality, and reduce background noise for streaming.
Stream Webcam & Links
The C920 is well known as the most popular webcam for streaming on Twitch. It is fun to add a second (or even third) camera for those moments when you need to switch camera angles to things like your beard, cat, artwork, or anything else the main camera can't cover.
Headset, Stream Music/Mixer & Links
I have a great appreciation for the quality of audio and music, more so after I started editing and composing audio for my YouTube videos. However, delivery of high quality audio for Twitch and YouTube can be challenging because it can be very lossy. Thus, I try to master the best quality audio possible for streaming and recording. I found that my Razor headset was comfortable for streaming, but not great for audio editing, so I got a Audio Technica headset that many of my music producer friends use to compose music. The ATH-M50X headset is very nice for mastering audio for YouTube and Twitch. I also needed to monitor the music/sound from multiple computers while streaming (my main computer, music computer, and etc).
Lighting Equipment, Greenscreen & Links
Stream lighting for your Twitch studio is super important when you are on the camera, especially if you are using a green screen on your stream. These photography light stands are great because they can be positioned anywhere in your studio (adjustable height as well) to help you get the best lighting for your stream. The umbrella works to diffuse the light (like a soft box). This helps light the green screen evenly for OBS green screen keying, and reduces harsh shadows and/or bright spots on the face. I currently use the umbrella for stream lighting. Bright photography lights for streaming do a better job with webcams (and any camera really), because they transmit a bright and more natural color light. The  brightness of the 30-45W lights are more normal and can be used as a normal room light, but the 65W lights can be really bright. The higher power lights definitely need an umbrella or soft box if you use it near your face, but they work magic on the webcam video quality and green screen keying in OBS.
Scene Changing, Mouse & Links
Computer Equipment & Links
More info coming soon. See my computer, and watch me build it HERE.
Dual-PC Stream Setup
More info coming soon. See more information about my multi-PC stream setup HERE.
More links